Fully Reconditioned Horizontal, Continuous Baling Press.
The machine incorporates a photocell and feed hopper for continuous operation. A shearing system is included for cutting through bulky waste. An automatic bale measuring unit is also included.
The machine is completely dismantled in our own workshop. Every item is inspected and if faulty, replaced with new. Replacement new wear pads, guide rails and bearings are fitted. The hydraulic system is overhauled. New seals and 'O' rings are fitted. The hydraulic tank is thoroughly cleaned and new filters and strainers are fitted. The tank is refilled with new high-grade hydraulic oil. The machine is electrically rewired. New limit and safety switches are fitted. A new electrical control panel is fitted, which incorporates a Allen Bradley PLC control which includes diagnostic fault finding system. All electrics comply with current health and safety regulations. The machine will be guaranteed for six months parts and labour.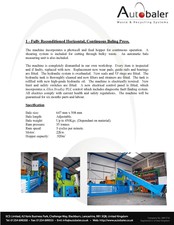 Specification
Bale size: 647 mm x 508 mm
Bale length: Adjustable.
Bale weight: Up to 450Kgs. (Dependant on material).
Ram pressure: 35 tonnes
Ram speed: 3 cycles per minute.
Motor: 22kw.
Hopper capacity: .920m3
Shown above as part of a document shredding system.
Shredder and feed conveyor NOT included.